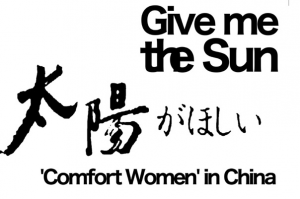 On Thursday, 9 November 2011, at 8pm, we will show the film "Give me the sun" on "comfort women" in China in the Centro Sociale, Sternstraße 2, in Hamburg. Filmmaker Zhongyi Ban will be there for discussion. We would be delighted to see you there!
The film is in Japanese/Chinese with English subtitles. The discussion will be held in Japanese/German, summary translations into English can be provided.
"We have to win back the truth."
Aihua Wan, survivor of the "comfort women"-system of the Japanese Army
—————————————-
In German
"Wir müssen die Wahrheit zurückerobern"
Aihua Wan, Überlebende des "Comfort Women"-Systems der japanischen Armee
Zwischen 1932 und 1945 zwang die japanische Armee bis zu 200.000 Frauen und Mädchen aus 13 Ländern in die sexuelle Versklavung in so genannten "comfort stations" für ihre Soldaten. In "Give me the Sun" stellt der Regisseur Zhongyi Ban sieben überlebende Frauen in China vor, die er auf Reisen durch die Provinz Shanxi kennengelernt hat.
Seit über 18 Jahre begleitet er sie, führt Gespräche und Interviews. Einige von ihnen wurden unter Täuschung und falschen Versprechungen angeworben, andere wurden entführt, gefoltert und in einer nahe gelegenen "comfort station" sexuell versklavt. Nach dem Ende des Kriegs lebten viele der Frauen am Rande der Gesellschaft in Armut.
Zhongyi Ban spricht auch mit Familienangehörigen, Nachbarn und ehemaligen japanischen Soldaten, die sich vor der Kamera über ihren Einsatz in China äußern. Der Film zeichnet ein vielschichtiges Bild des Lebens der Frauen, ihres Kampfes um Anerkennung und der Bedingungen ihres Sprechens.
Wir freuen uns sehr, den Filmemacher an diesem Abend im Centro begrüßen zu können.
20.00 Uhr: Gespräch mit Zhongyi Ban
20.30 Uhr: Filmvorführung
Hinterher gibt es die Möglichkeit, gemeinsam über den Film zu sprechen.